You've probably never heard of the drummer here, Roger Hawkins, but he played on a bunch of huge records, and must have one of the most divergent personal fame : musical exposure ratios ever. The song is Aretha Franklin's Chain of Fools, and Hawkins's playing on it is my idea of a perfect rock performance.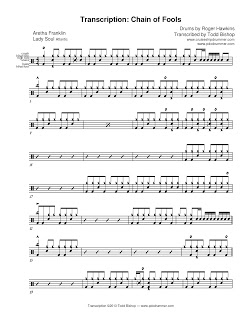 There's a fair amount of repetition, which I've indicated with slashes to make it read a little easier— where those are present, just keep playing the main groove for that section. The snare drum is played strongly throughout, except notes in parenthesis, which are played softly.
Audio and background on Hawkins after the break:
From the comments, Ed Pierce, a great drummer living in Portland has more about Hawkins for us:
Jerry Wexler (the great producer of a ton of stuff on Atlantic Records, including Aretha Franklin, Ray Charles, Solomon Burke, etc.) apparently called Hawkins the "greatest drummer in the world." Wexler fell in love with the Muscle Shoals Rhythm Section (which included Hawkins on drums)around 1966 or so, and after that he started using them on a bunch of sessions for Atlantic artists. After Aretha's first recording session down in Muscle Shoals didn't work out too well, Wexler started flying the band up to New York to be the backup band on her recordings. I find it amusing (and testament to Hawkins' and the other musicians' skills) that in the largest city in America, with a plethora of phenomenal musicians to choose from, Wexler instead chose to import a bunch of musicians from tiny Mussel Shoals, Alabama to get the sound he wanted on Aretha's records. I have an Atlantic compilation of Solomon Burke tunes, and all of the sessions in the early to mid-sixties use great New York session drummers–Panama Francis, Bobby Donaldson, Gary Chester, Bernard Purdie, but starting around 1966 Roger Hawkins started playing on all the sessions. The New York guys were great, but they were a little lighter sounding in their approach. Hawkins had that gritty Southern Soul feel that Wexler apparently was looking for.